Provide Answers to Those Questions
Let your reports tell the story
Reports come in many forms and are supported by a variety of data. Find out here what reports mean for us and how we designed them to provide solutions to our customers.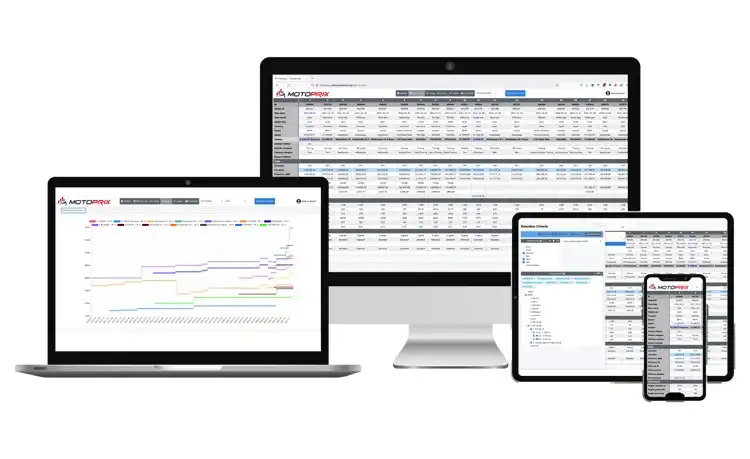 MOTOPRIX Workbench
Discover pricing events via advanced price data reporting and straightforward queries.
Find answers through an intuitive reporting workbench
For straight forward analysis and pricing event queries, MOTOPRIX's workbench offers an intuitive and clever interface to work with our advanced pricing data.
The Pricing Data Analyst's Workbench
MOTOPRIX's workbench taps in to our pricing data allowing you to perform queries and generate straightforward analyses about global pricing events. The MOTOPRIX workbench allows you as the analyst to effortlessly assemble a collection of vehicles to report on or export. The available report styles facilitate analysing current and historical price events. Choose between different reports, depending on the context and the size of the vehicle collection in your query. Below you find typical use cases next to their most suitable report style.
Side-by-side Report
The Side-by-side report's layout is ideal to visually compare all the data items for a small set of vehicles. The report displays selected motorbikes side-by-side in a grid, their data going down the page. To run the side-by-side report for a group of vehicles, prepare your selection using the Selection Criteria sidebar or reuse an earlier saved basket.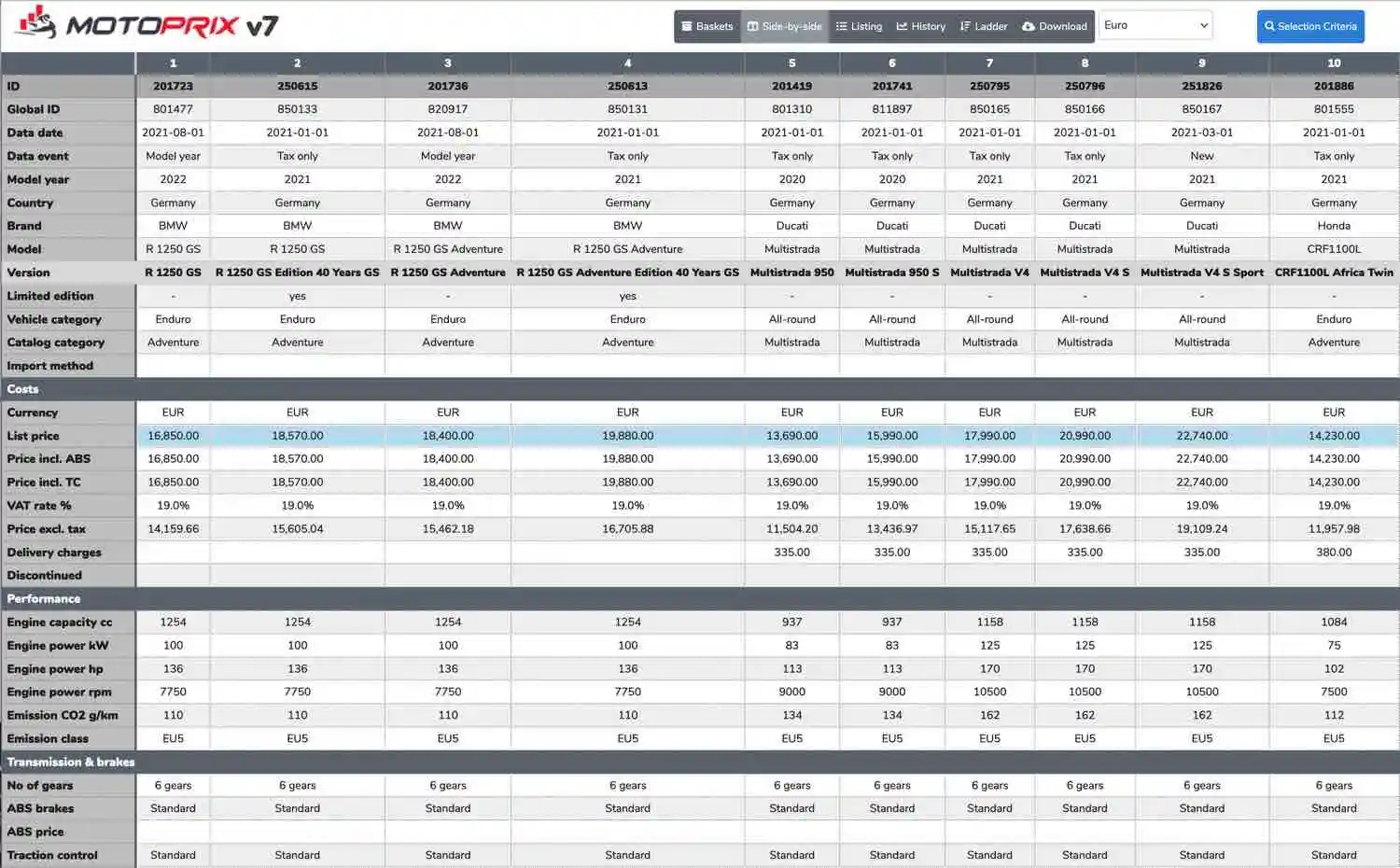 Image: MOTOPRIX Side-by-side report - Compare motorcycle prices and specifications
Listing Report
The Listing report's layout is most suitable to list a limited set of data for a large number of vehicles. The report displays selected vehicles row-by-row in a grid, their data going across the page. To run the Listing report for the vehicles matching the current selection criteria, prepare your selection using the Selection Criteria sidebar. One can also reuse an earlier saved basket. Fine-tune the resulting list using the vehicle history scope and price history selector. Currency conversion is available too.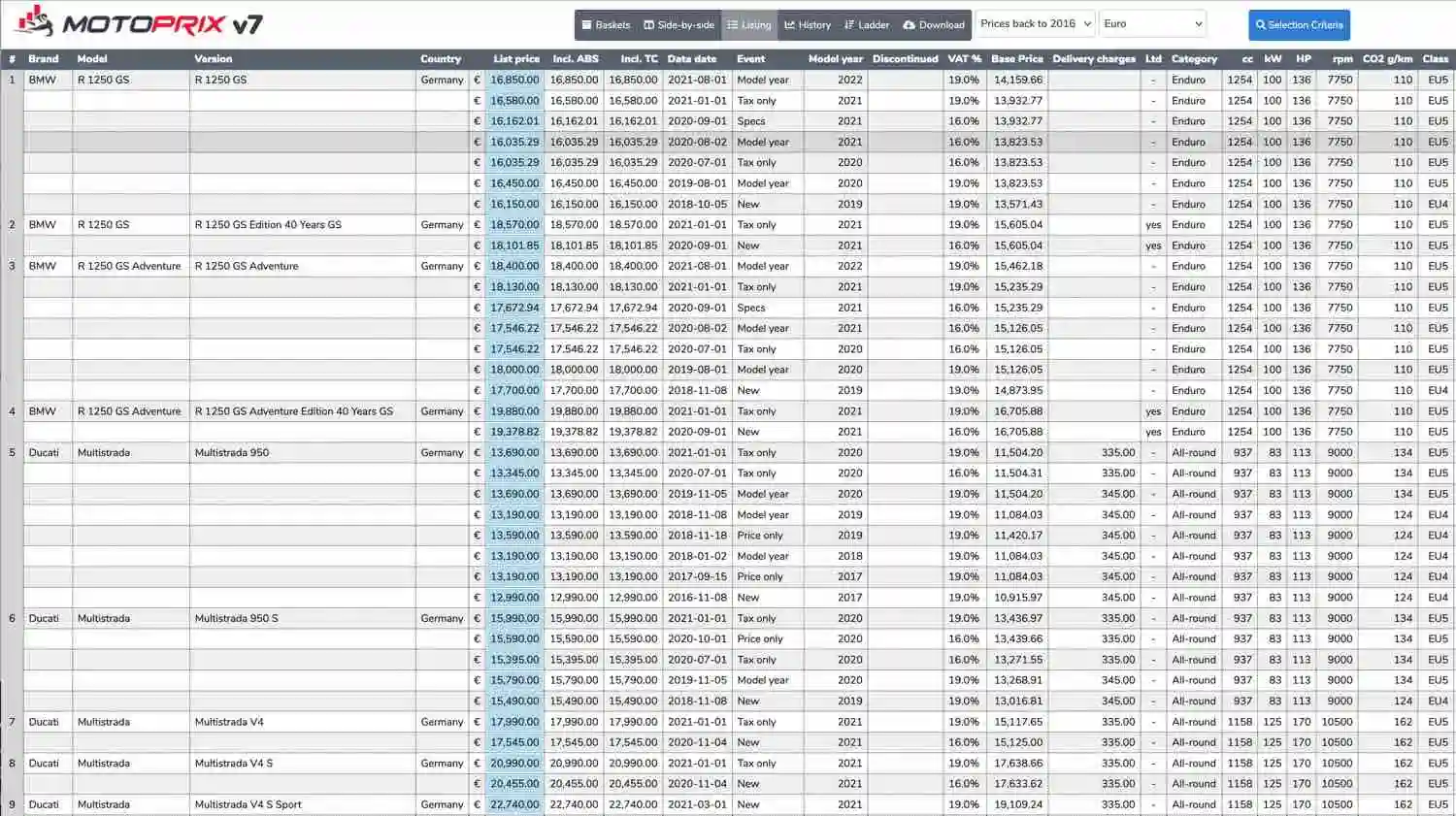 Image: MOTOPRIX Listing report - Present a sizable list of motorcycles with current and historical prices
Price History Report
We designed the price history report to display the most granular price history detail in a timeline-like grid for a limited set of competing versions. The price history grid shows the prices in a timeline fashion. Each version has a block of data items describing the details at any particular period. Below the list price, one can find the price difference with the previous price as a percentage.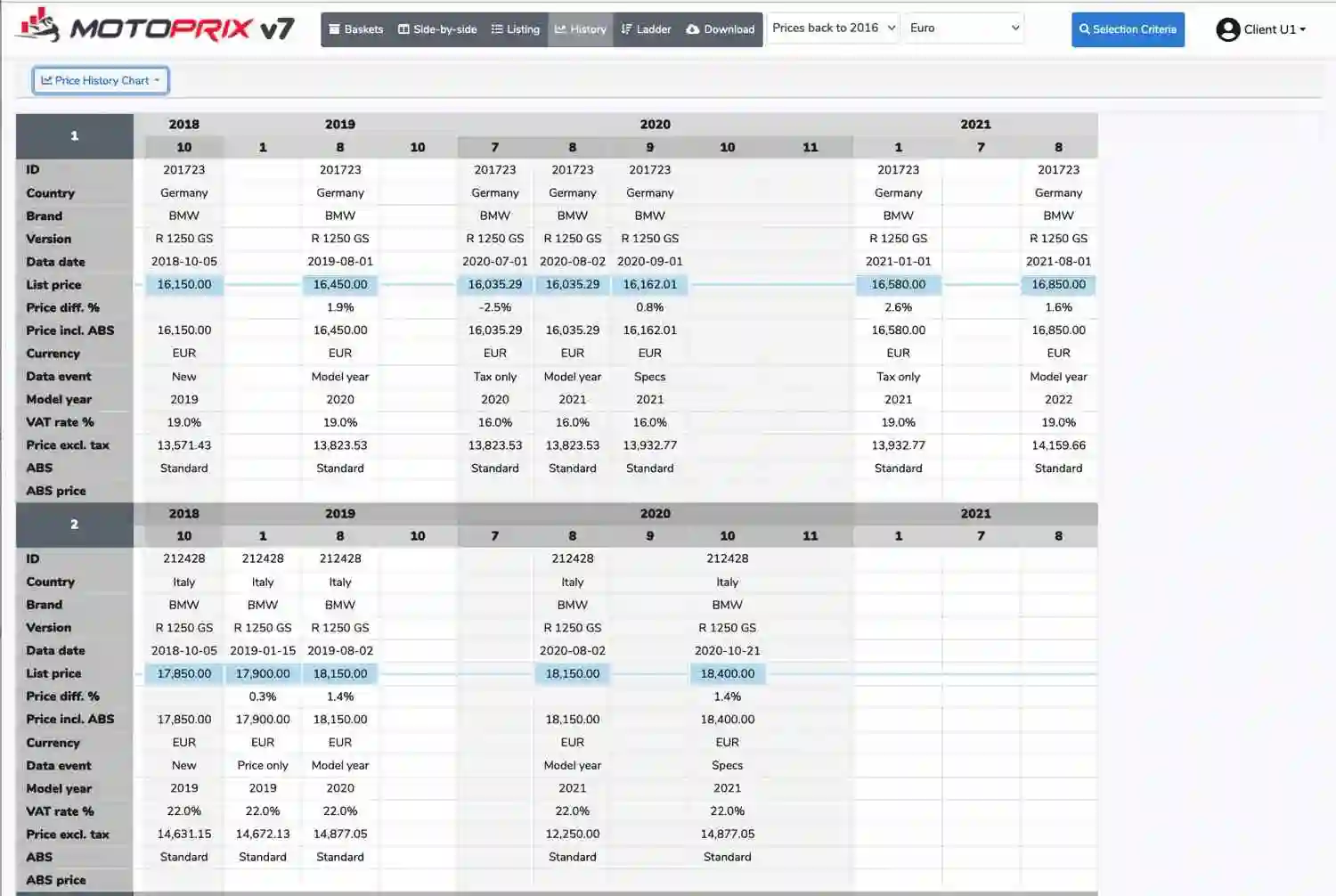 Image: MOTOPRIX Price History report - Show the price evolution on a timeline for a group of motorcycles
The accompanying chart renders a visual presentation of the price history evolution for the selected vehicles, historical period and currency converted prices.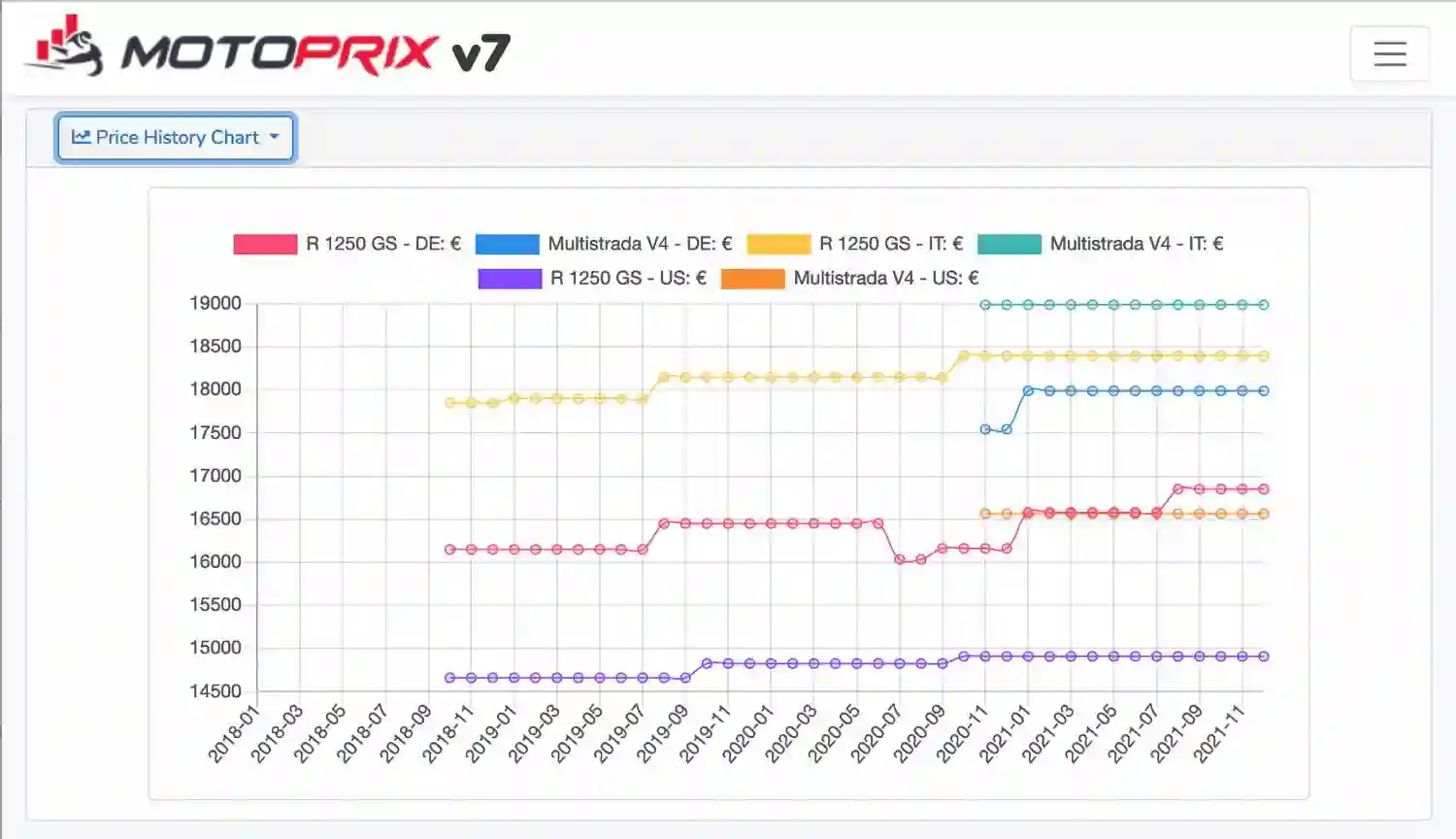 Image: MOTOPRIX Price History chart - Visualise the price evolution on a line chart for a group of motorcycles
Price Ladder Report
The price ladder report is designed to highlight a brand's versions' price position against relevant competing brands. Typically, the offset competitors are a collection of bikes in the same market segment and comparably priced.
The report algorithm plots the versions alongside a centrally placed ruler (ladder). It covers the entire price range of the selected vehicles. To the left of the ladder are the benchmark brand, often the analyst's own brand, the competitors on the opposite side.
Plotting the versions in strict price order visualises price gaps between one's own product range and the competition. These gaps can indicate possible weak positioning and lost opportunity.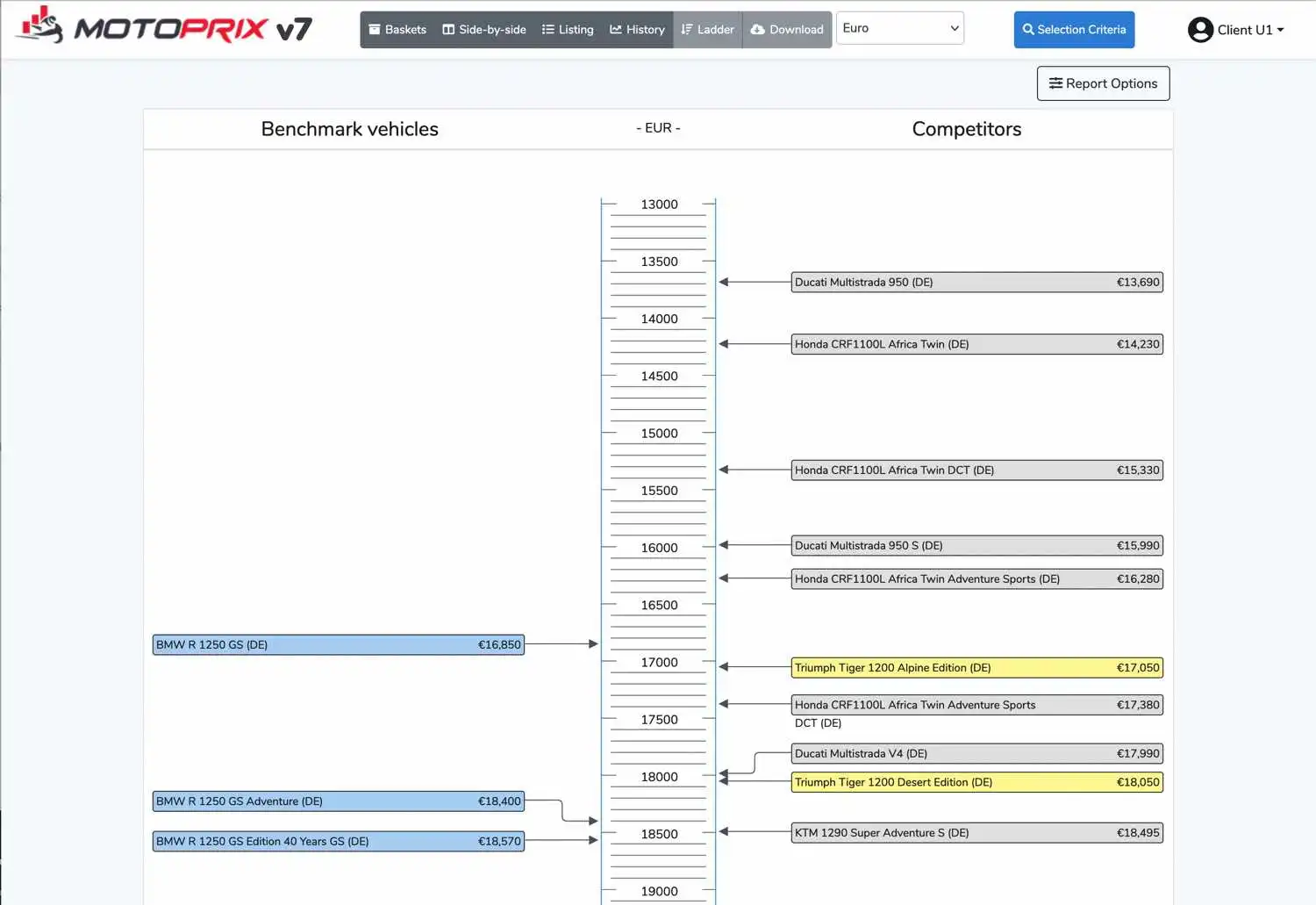 Image: MOTOPRIX Price Ladder report - Detect price gaps for the benchmark model, offsetting it against its competitors
Download reports into a spreadsheet
When analysis requires combining data sources, the MOTOPRIX workbench allows the analyst to extract the data in various popular formats to be fed into the analyst's own models and algorithms. In essence, one can effortlessly export data from the Side-by-side, Listing and Price History Report to an Excel spreadsheet, straight from the report controls.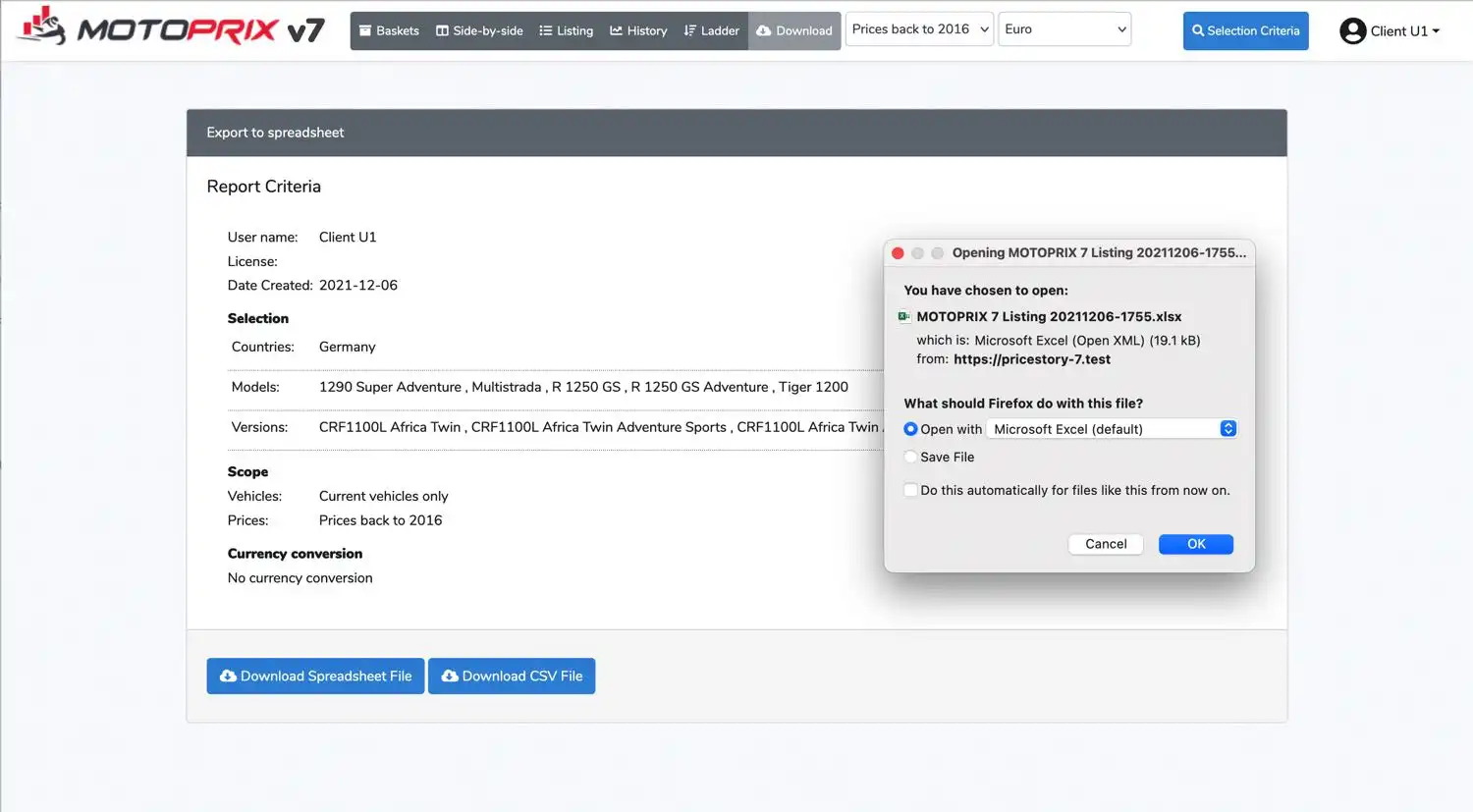 Image: MOTOPRIX Download tool - Export any report to a spreadsheet or CSV file
The standard file download process will store the newly generated download file depending on your browser and browser settings. When exporting to a spreadsheet file, formatting will be applied to make the output more visually attractive.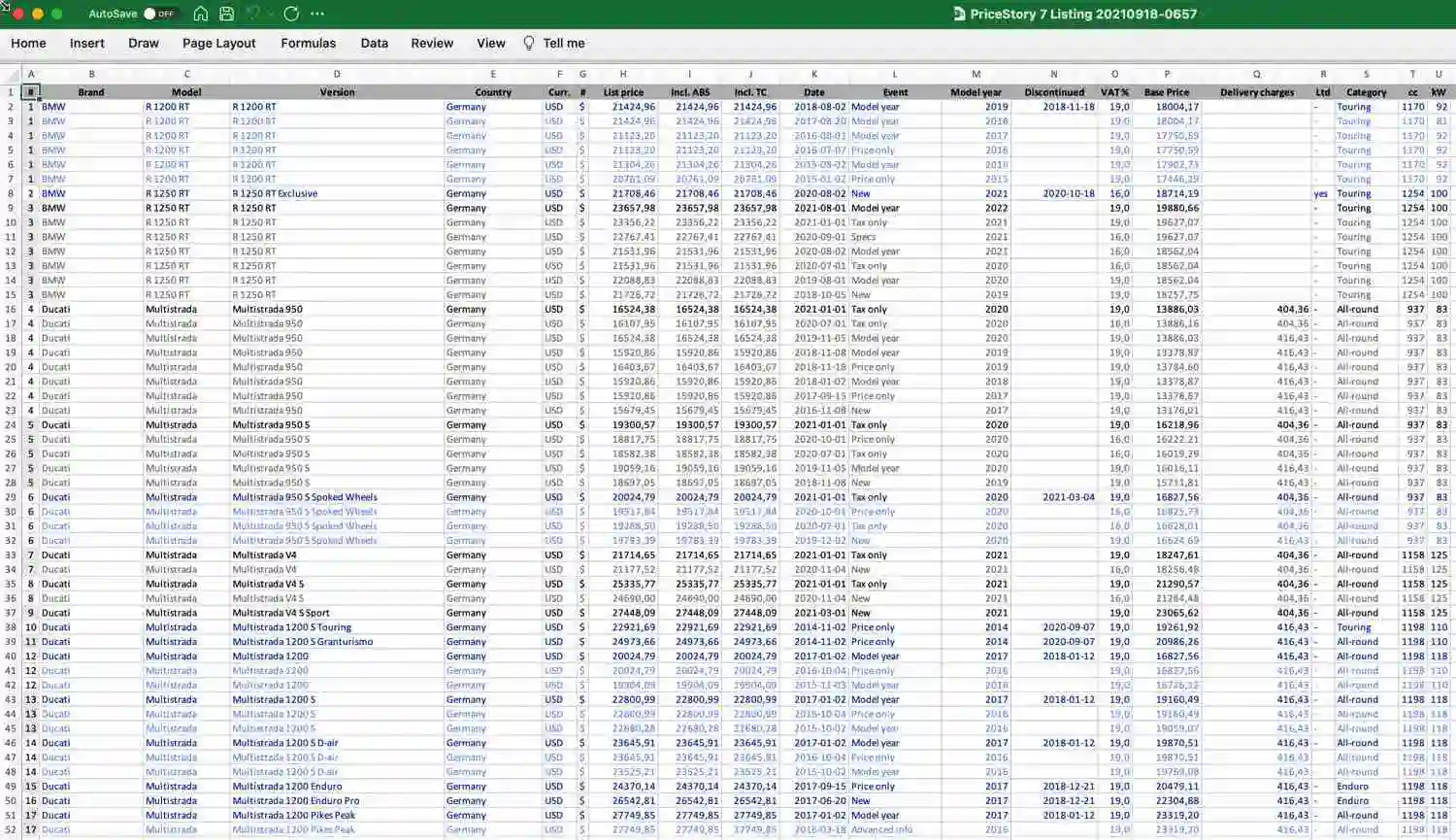 Image: Example of a MOTOPRIX Price Listing report, exported to a neatly formatted spreadsheet
Blend our data into your own reports
Marketing your products takes more than pricing, and spreadsheets are an excellent tool to analyse trends. To allow you to integrate our pricing data into your charts and spreadsheet reports, we made a one-click function for you that takes the data from most of our reports and save them into a spreadsheet or CSV file.
Do you need other reports or pivot tables?
It's simply impossible to have all the tools in place all the time. If an analyst's task were that predictable or that much a routine, it would quickly become boring! Often, one spots events that require sharpening the tools. Let's talk and see how we can pull those prices in or customize the data output!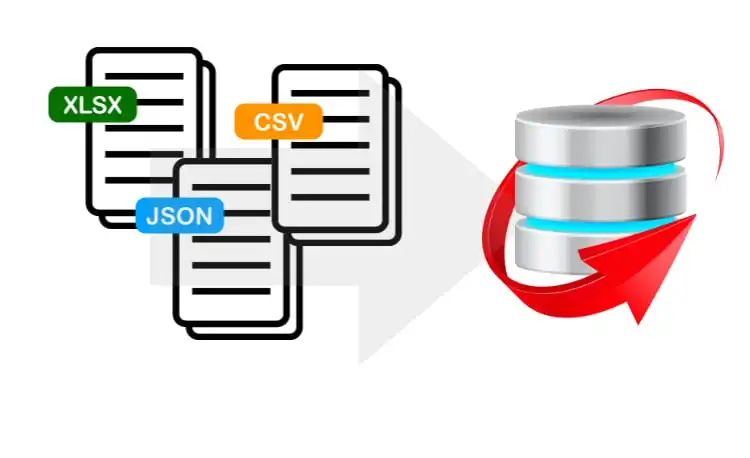 Bulk File Delivery
Feed a choice of our global motorcycle pricing data into your organization's proprietary systems.
When would you opt for bulk data delivery?
Bulk Data Delivery subscribers typically have a clear idea of how our motorcycle pricing data fits with their information systems. Often these organizations have already deployed bespoke analytical tools or dashboards to capture and analyse market events.
Also, during the development phase of such information systems, an organization needs to test the capabilities of our data feed and the synergy between both integration support teams.
Which data can be delivered in bulk?
The beauty of working towards an integrated information system is that one has absolute control over how to handle the data and how to combine proprietary data with datasets from a variety of third-party suppliers like MOTOPRIX.
System experts responsible for designing such systems can define to a granular level which data items are required, how these need to be supplied and at which intervals.
MOTOPRIX supports:
Custom field name mapping
Supply of raw data values
Raw value data translation
Flat and hierarchical data structures
Popular formats like CSV, XLSX, ODS
Other formats such as JSON and fixed-length
Bespoke data formats (on request)
How will these datasets be delivered?
Like the data mentioned earlier structures and file formats, delivery of data into enterprise systems depends entirely on the system requirements and the agreed update frequency. A MOTOPRIX Bulk Data project is flexible towards update frequency, data scope and transport medium.
Update frequency
How often an update is required again is up to the customer. Depending on the overall setup of the system, we can design the dataset to overwrite all previous data or use incremental updates containing just the new stuff.
Data Transport
Coming to the choice of transport, very often, technology isn't the determining factor; instead, it's primarily due to the organization's security protocols. Some projects rely on a direct data transfer connection between sending and receiving servers; others may ask us to FTP the upload file in a designated drop zone for inspection.
Sounds good, where do I start?
There is no one-size-fits-all approach here! You best start by letting us know that you consider a bulk data implementation. Next, we'll discuss your non-disclosure requirements. With that's sorted, we can discuss how far you are in the process and start by allowing you the verify the quality and completeness of our data service. Once set on that, we will move on to the desired data model, and we'll prepare a set of test upload files for your team to try out.
And don't worry, our integration team enjoys the journey of getting your data just right!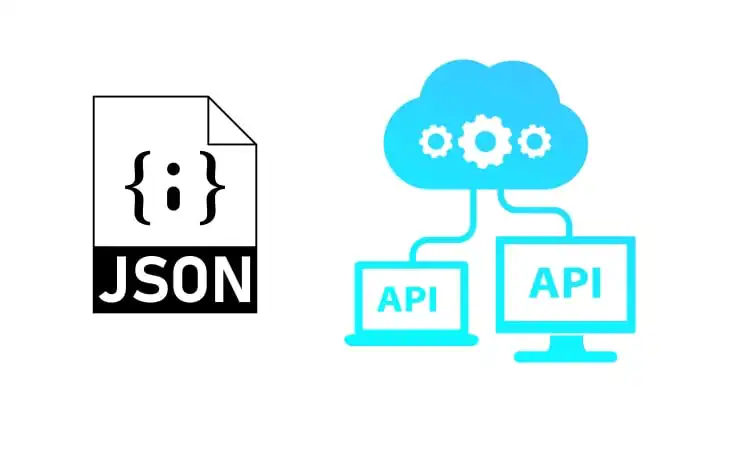 API Access
Build efficient data automation through API access. Allow your systems to fetch only data as and when they need it.
Data Automation Through API Interfaces
Modern systems require instant access to the latest price updates. Unlike traditional systems that store large volumes of records, API driven systems are designed to fetch only the data they require at any given time; doing so, they solve the problem of stale datasets and lengthy import processes.
When would I need API access?
APIs allow systems to communicate without human intervention. For example, management information systems require different data sources, and API technology enables such systems to fetch data matching the question at hand.
Take the following example:
A reporting tool compares the quarterly sales performance for a segment of motorbikes.
The intermediate results mandate to drill down more profound in the price history trends for a couple of models.
With a handful of criteria from these results, the MOTOPRIX API is queried for the price history of said models.
The MOTOPRIX API will instantly return the requested data for your analytics tool to perform the remaining calculations.
You may well be using a BI tool for your analysis, you don't want to use yet another external toolset, and you definitely don't want to mess around with spreadsheets. Our API allows you to have our data available in your weapon of choice.
Why go for an API implementation?
For a long time, it has been the case that when an organization acquires data or subscribes to a data service, this requires periodical upload of large files. The latter requires storage space and takes time due to manual handling.
API access is different because there is no need for data storage on the subscriber's side. Instead, your applications, consuming the data, will only fetch the data they need as and when they need it. That also means you'll get a fresh set of data, free from legacy issues, with every query.
Aside from security and legal issues, this takes away the burden of maintaining the data via upload and the need for storage.
Where can I use an API?
Because APIs allow machine-to-machine data exchange, they can be implemented in almost any data automation process. Some practical examples are:
Proprietary management information systems
Analytical reporting tools
Dashboard applications
Webpages and web forms
Which API technology do you support?
MOTOPRIX not only supports the well-known REST API technology but has recently also invested in GraphQL support. From an integration angle, the most significant difference between a REST API and a GraphQL API lies in the manageability of the returned data.
The REST API returns a predefined set of data, often containing unused data items; the receiving application must handle that data upon receipt.
With the GraphQL API, the requesting application sends the filter and desired data structure with the request and receives formatted and filtered data.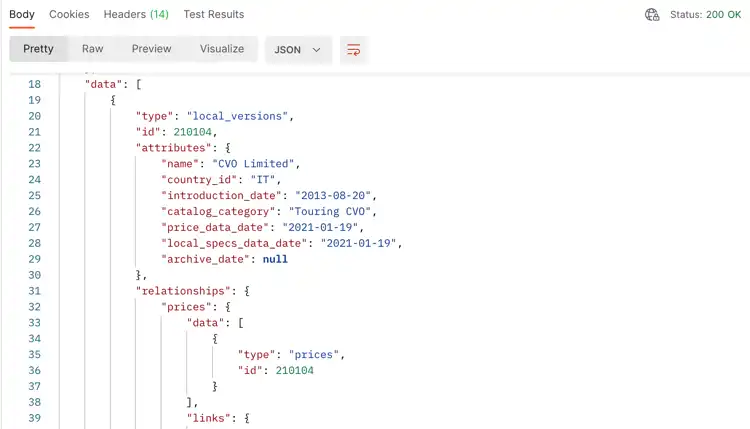 Image: MOTOPRIX REST API - a JSON output sample viewed in Postman API tool
Who can implement API access?
Deploying an API is a task for skilled IT specialists. Depending on the capabilities of the client application, they will work out an implementation plan or redesign of an existing application. The developer refers to the API documentation to understand how to use the interface.
Many third-party analytics tools and dashboard applications have native API support and therefore don't require a developer's time. Check out their documentation and ask for our support to get up to speed with that.
API Specifications
Types: REST or GraphQL
Returned data standard: JSON:API, JSON
Authorisation type: Bearer token
Does MOTOPRIX build custom APIs?
In short, yes, we do! Depending on the scope of your project, we can develop bespoke APIs that render the data precisely to your specifications. We also aim to learn from customers' needs, and we are keen to extend our native API to fulfil those needs. Talk to us about your project, and we'll find the most workable solution.
Are you planning an API deployment?
To discuss your project, just use the button below to contact us. Before anything, we'll discuss your non-disclosure requirements. When that's sorted, we can discuss how far you are in the process and start by allowing you the verify the quality and completeness of our data service.
Once you are happy with that, we will set up an account to generate your access tokens and get the full API Reference guide. Then it's up to you to put the API through the test. Any questions along the way, our integration team has got your back!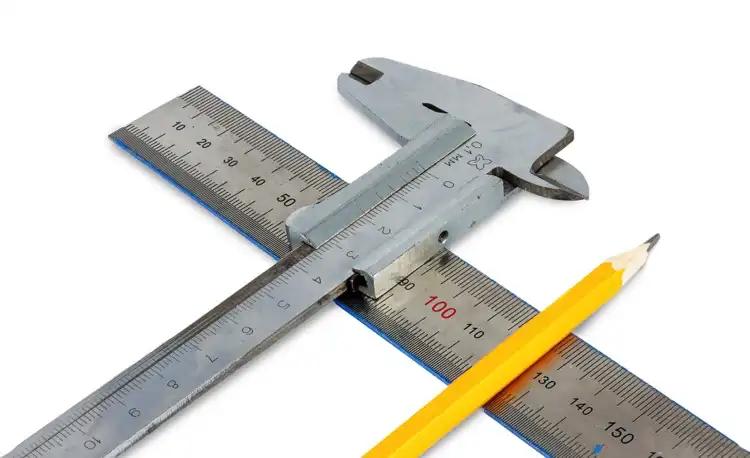 Custom Projects
Our team of developers and researchers works with your analysts and IT specialists to get accurate pricing data into your innovation projects.
Sometimes it takes forging one's own tools
At MOTOPRIX, we're all about motorcycle pricing data. Market events dictate which analyses are due, and we understand that we cannot cover everything out-of-the-box. However, the MOTOPRIX platform is built to provide flexibility, and we jump on any challenge the industry brings us.
Therefore, if you feel we don't cover what you need, let us know; there's a good chance we can do something about it together.
Read up also on related topics