»&nbsp
Home
»&nbspServices




Data Services and Delivery Options
Any advanced analysis combines a variety of data to deliver answers to recent questions. And, no matter how clever the tools are, market events will always require new, unexplored datasets. At that moment, standard tools will not suffice to deliver the answers needed.
Here's how we deliver your data
Explore the delivery options below and discover how you best implement our industry-strength data in your analysis needs. If you don't see what you need, drop us a line, and we'll work with you to get there!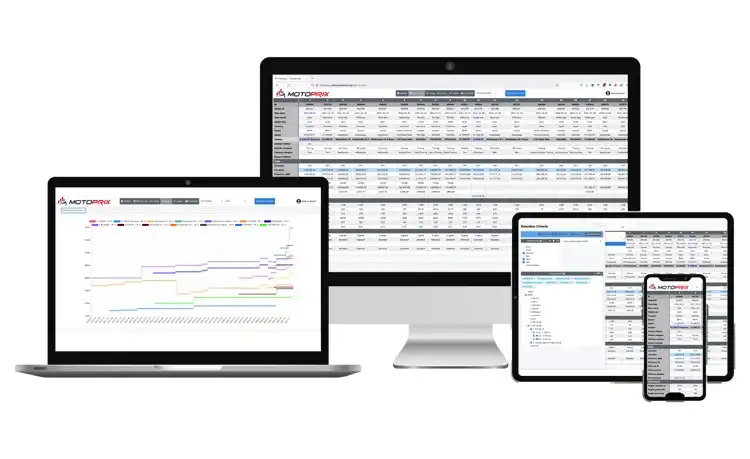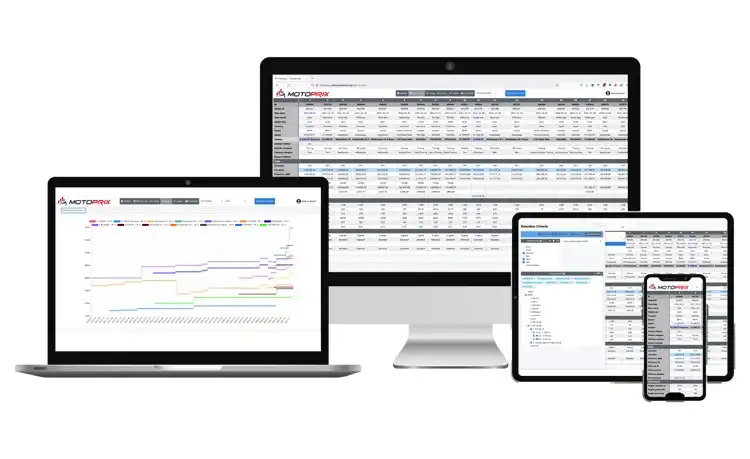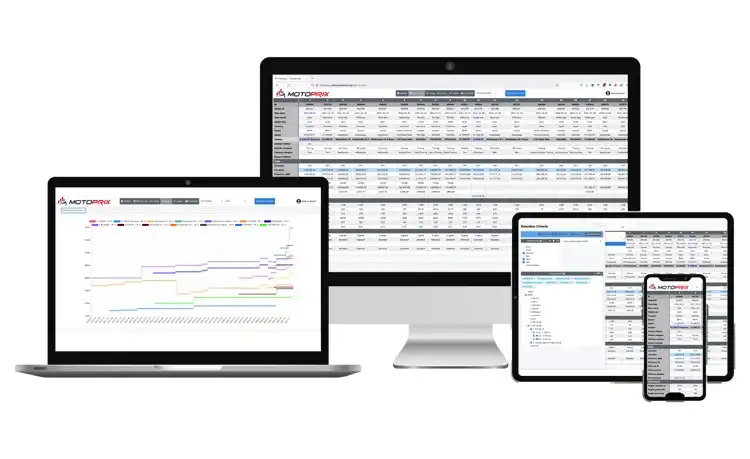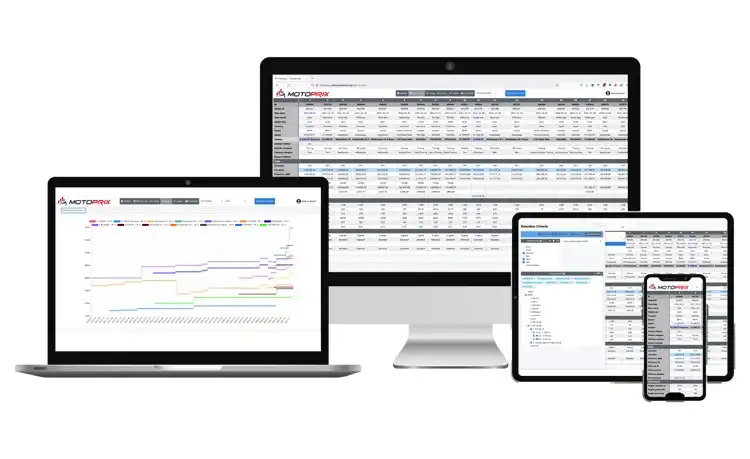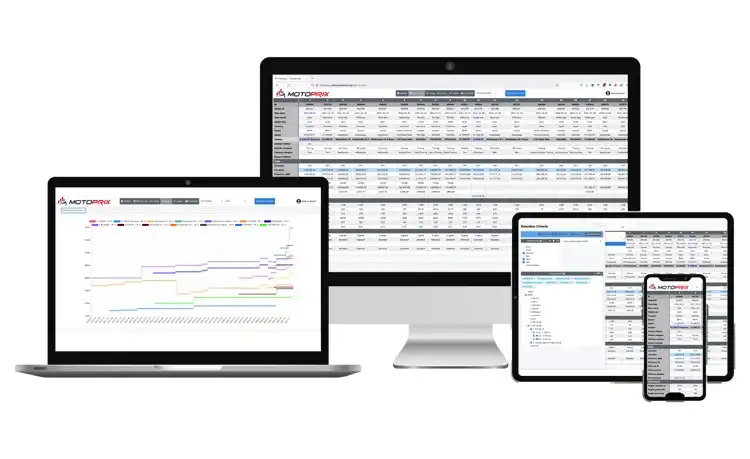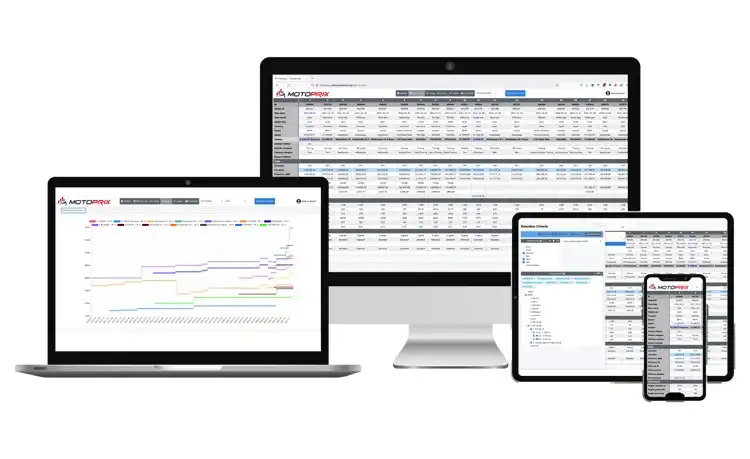 Find answers through its intuitive interface. Discover pricing events via advanced price data reporting and straightforward queries.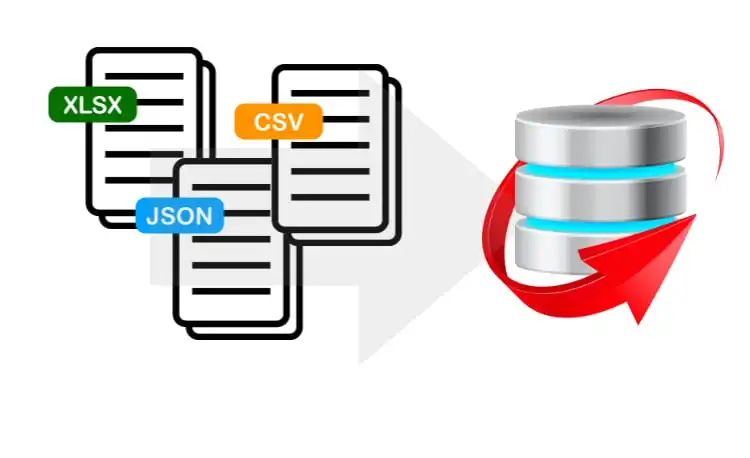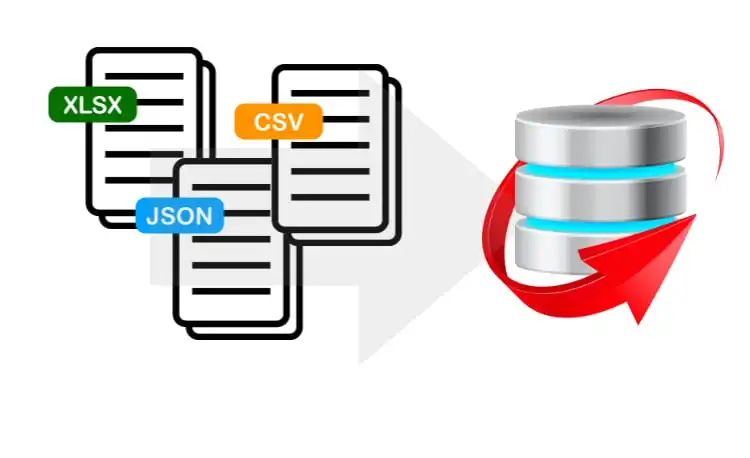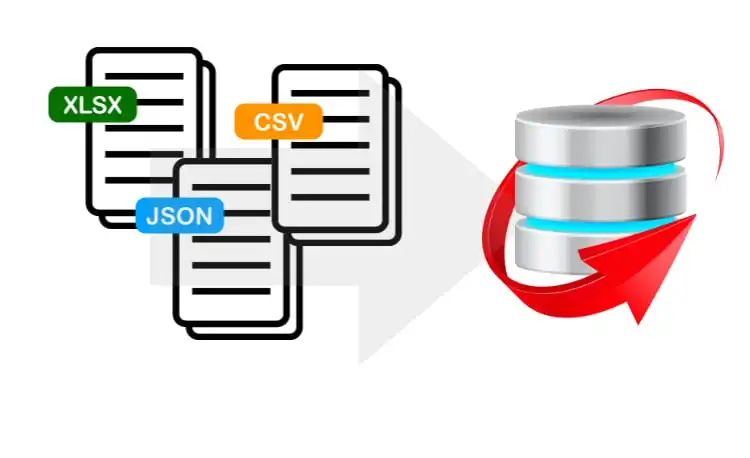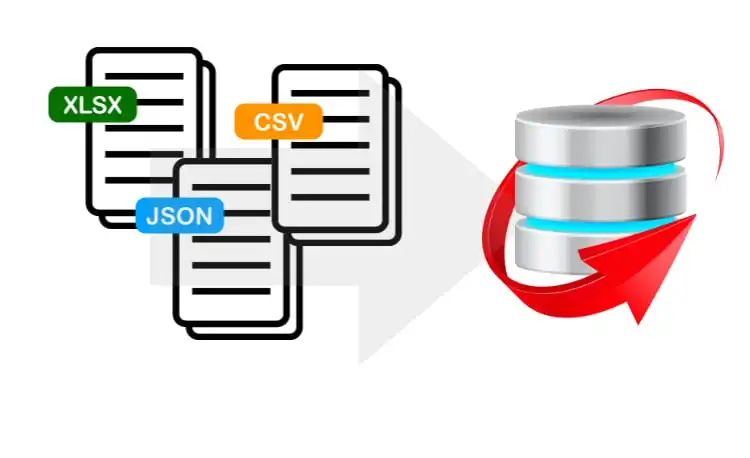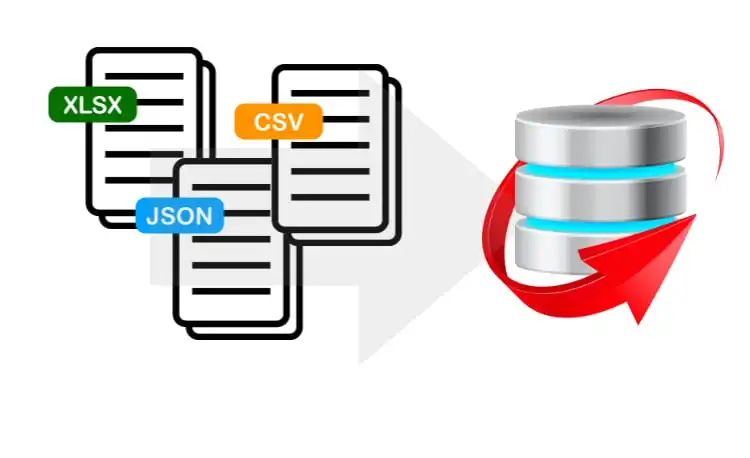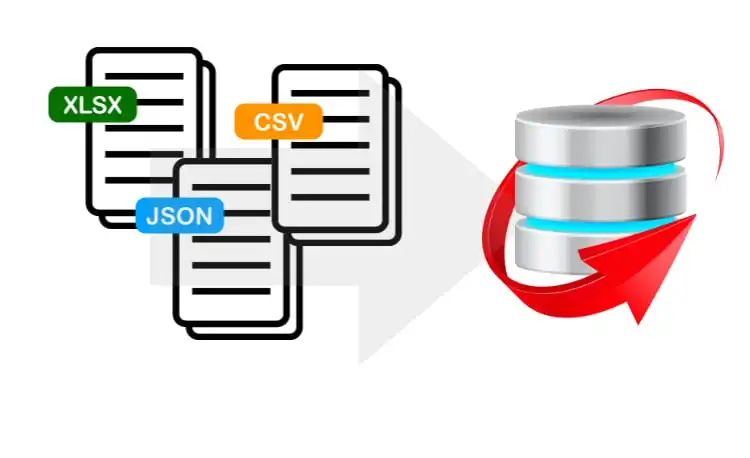 Feed a choice of our global motorcycle pricing data into your organization's proprietary systems.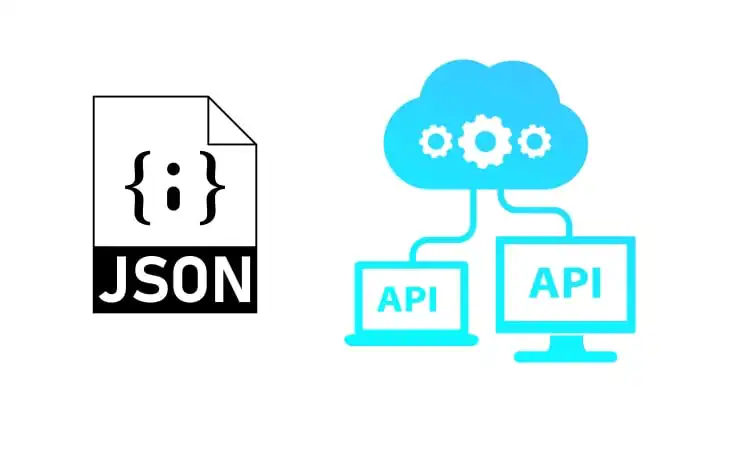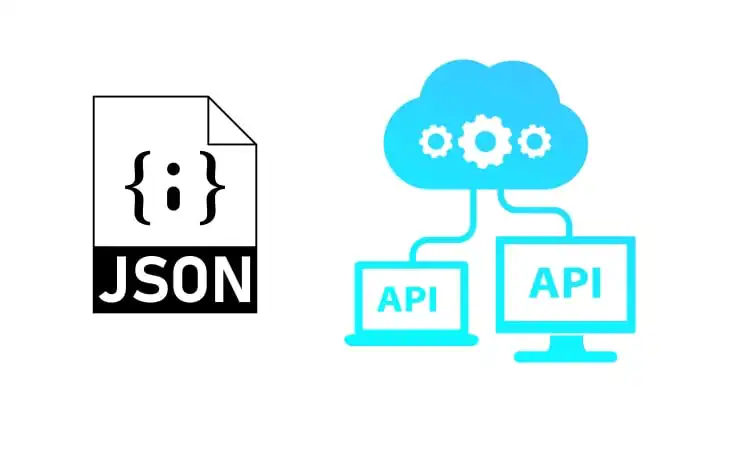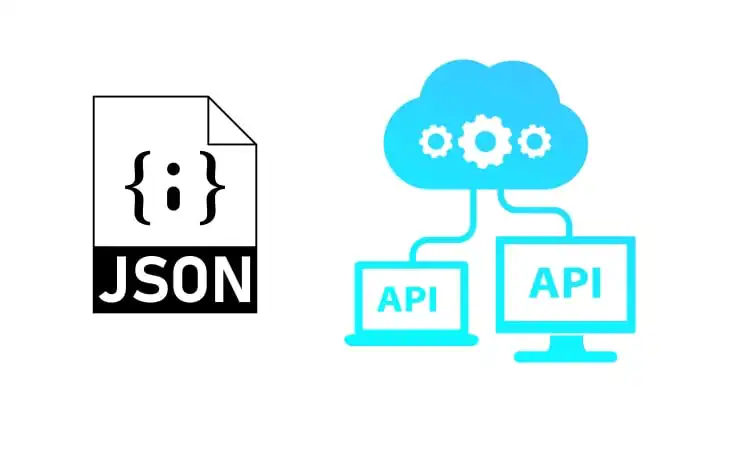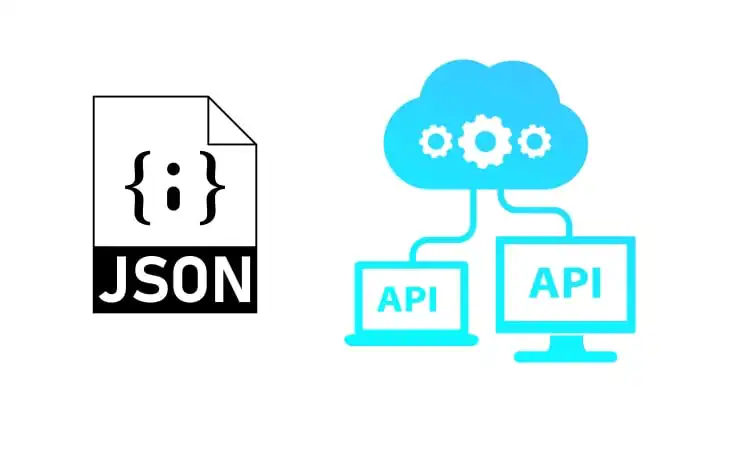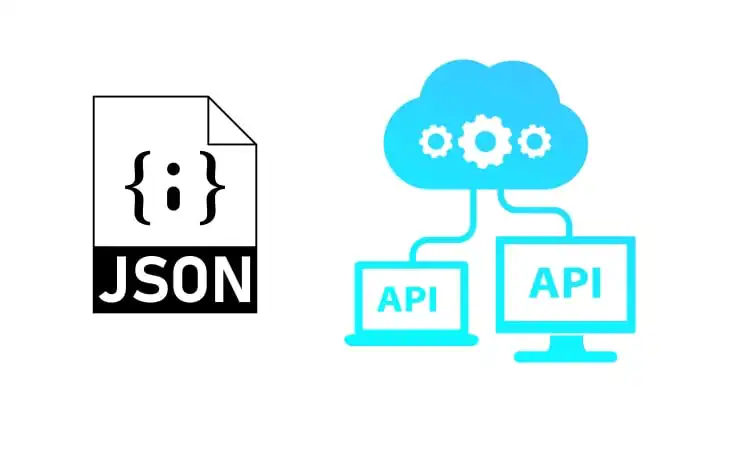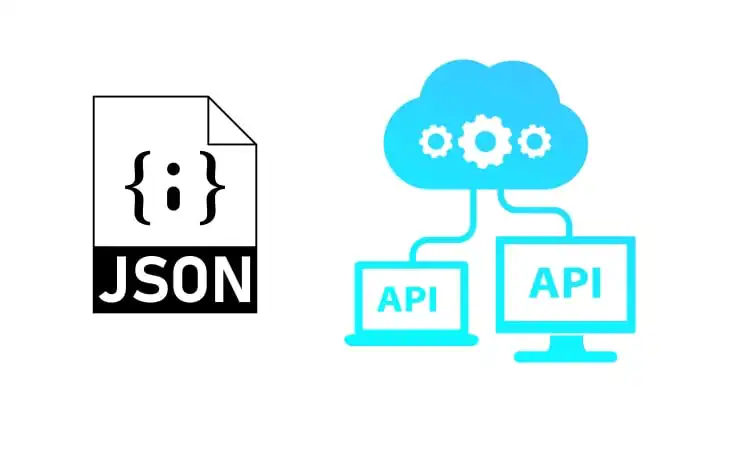 Build efficient data automation through API access. Allow your systems to fetch only data as and when they need it.
What if I need to integrate this data with other systems?
We understand that business solutions are rarely an off-the-shelve purchase; instead, they need to match existing processes and future developments closely. That's why we offer a "no strings attached" trial where you put our service and support to the test. Speak to our systems integrations specialists in confidence and under NDA if that is desirable.
Enhance your skills at the MOTOPRIX Data Academy
The MOTOPRIX Data Academy is there to bring you up to speed. The academy gives you full access to video courses and example reports. On top of that, it comes with an easy-to-understand manual. You'll get notified when new features are available and how to make the most out of them.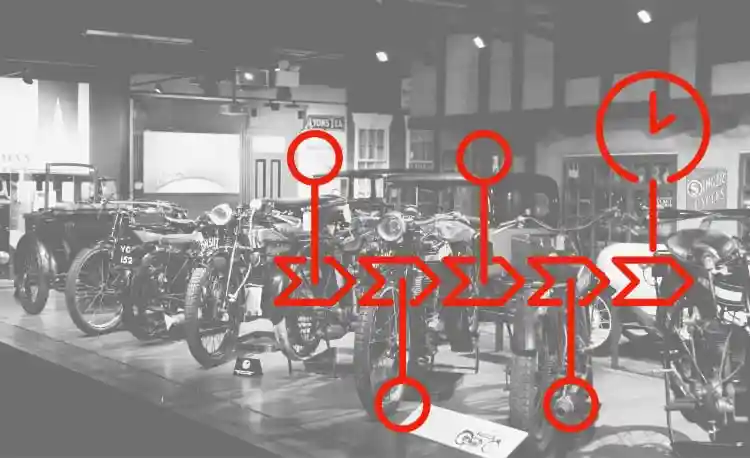 Most Complete
Collecting motorcycle pricing data globally for years, allows us to offer you a unique and extensive collection of pricing data.
The Most Complete Motorcycle Pricing Data
Our researchers have built up a database containing 60k+ unique price records to date. The team looks after 78 brands in 18 countries on a regular (weekly, bi-weekly or monthly) basis. Our state-of-the-art quality control system guarantees accurate and instantly available data.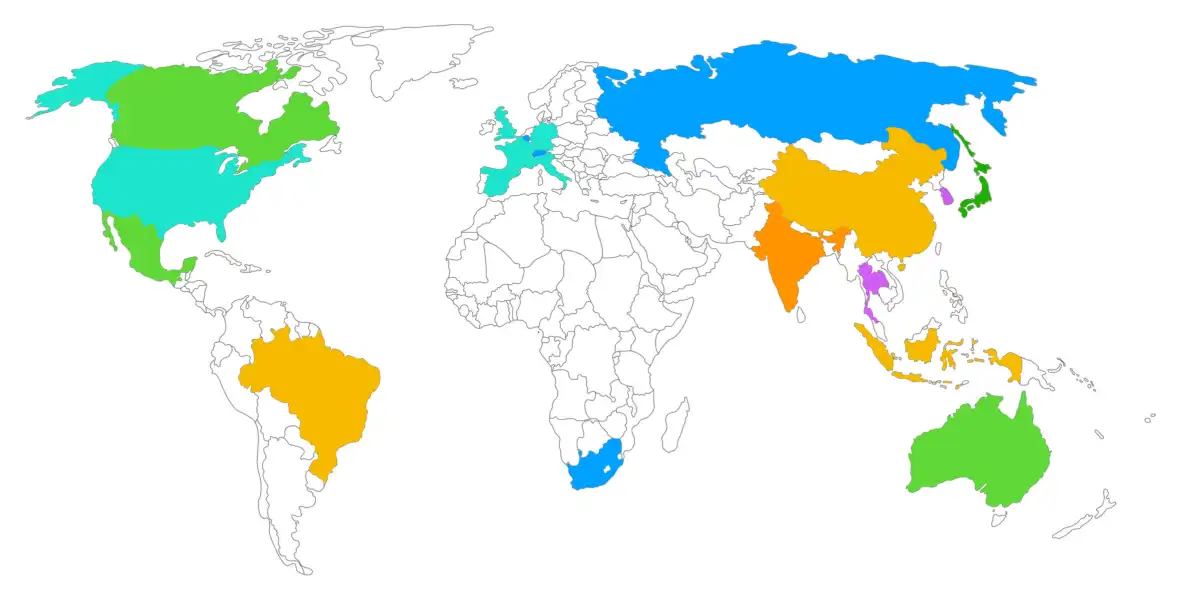 Image: World map highlighting regions and countries currently covered by the MOTOPRIX Pricing Data Service
| 2010 | 2013 | 2018 | 2020 | 2021 | 2022 | 2023 |
| --- | --- | --- | --- | --- | --- | --- |
| France | Brazil | India | Japan | Australia | Belgium | South Korea |
| Germany | China | | | Canada | Russia | Thailand |
| Italy | Indonesia | | | Mexico | South Africa | |
| Spain | | | | | Switzerland | |
| UK | | | | | | |
| USA | | | | | | |
Part of our strategy for continuous improvement of our service is to add data for countries our customers have shown interest in; so, undoubtedly more new countries coming up soon!
If you need data for a specific country that we do not currently cover, please let us know and we can investigate adding it.
Our Pricing Data in Numbers
Countries: 20
Unique brands: 89
Unique models: 1946
Unique versions at the global level: 5623
Unique versions at country level: 23334
Unique price records: 89303
Updated: 2023-10-10
Pricing Data Specification
Download the Pricing Data Specification sheet to examine our dataset's full specs and features. In this sheet, you'll find the available data items, the distribution of historical price entries and other statistics.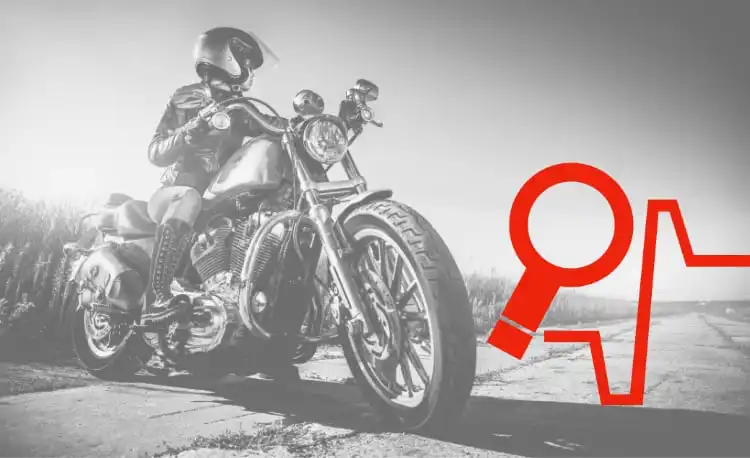 Most Reliable
Our global research team weekly collects the available pricing data. We process and standardize all collected data, so you can compare prices across brands, models and countries.
I have subscribed to your data service; what do I get?
Because we have a dedicated research team for each country in our service offering, we can provide a consistent follow-up on the market events.
Rule number one for any country's team is "Use first-hand information only". That implies that we only add source material published by each brand's importer or manufacturer to our database.
As an analyst, you understand the difficulty of interpreting information originating from different sources. So, MOTOPRIX compiled a comprehensive data definitions reference; the most remarkable thing about it is that you, the analyst, and our researchers use precisely the same data definitions guide. See excerpt below.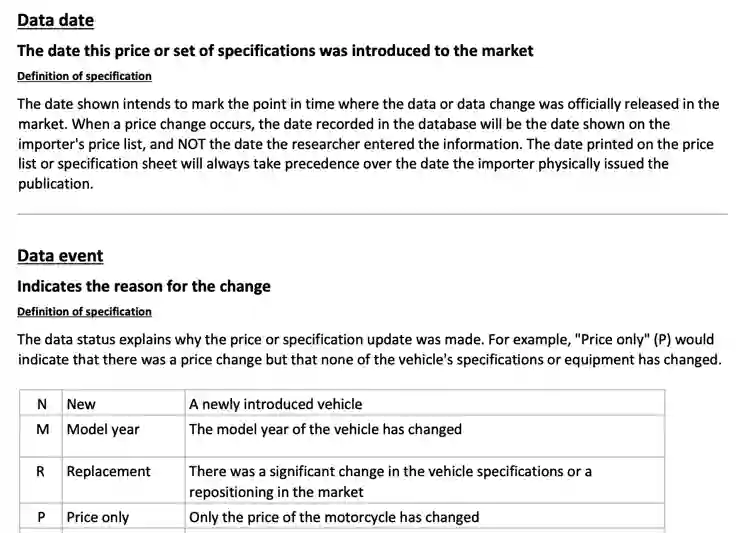 Image: Excerpt from the MOTOPRIX Data Definitions guide
The data verification process starts at the very moment our researchers begin entering it into their purpose-built workbench tool. Later in the process, more consistency checks are performed, resulting in a normalised dataset you can use to analyse across brands and countries.
Which advantages does that bring to you?
Having the above dataset at your fingertips means you can immediately respond to management requests without the burden of time-consuming searches through questionable data sources.
Not only does the above make you more agile, but it also allows you to check a broader spectrum without investing massive amounts of additional time.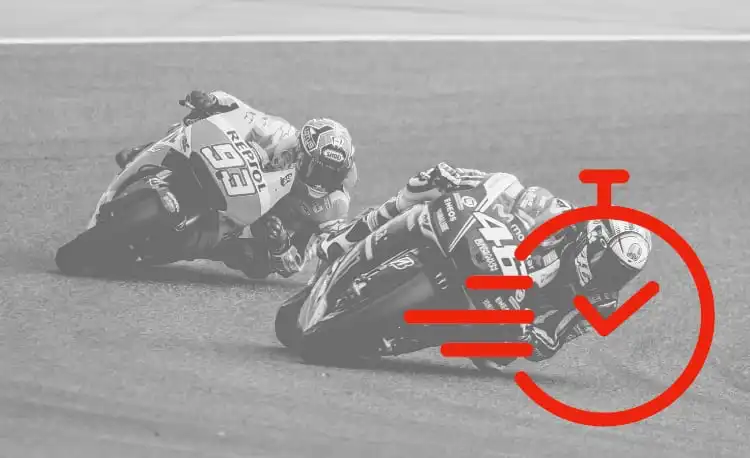 Fast and Easy Access
Our database engine, optimized for speed provides you with easy access to the most accurate pricing data in seconds.
Fast and Easy Reporting of Pricing Data
In November 2021, measured across 14 markets, our database consisted of 62885 individual price records. Imagine yourself comparing, the pricing data for 30 vehicles going back 10 years in history; getting that report together will take hours if not days! Not so with MOTOPRIX, executing such a query, it'll take you just under 6 seconds to get the results on-screen.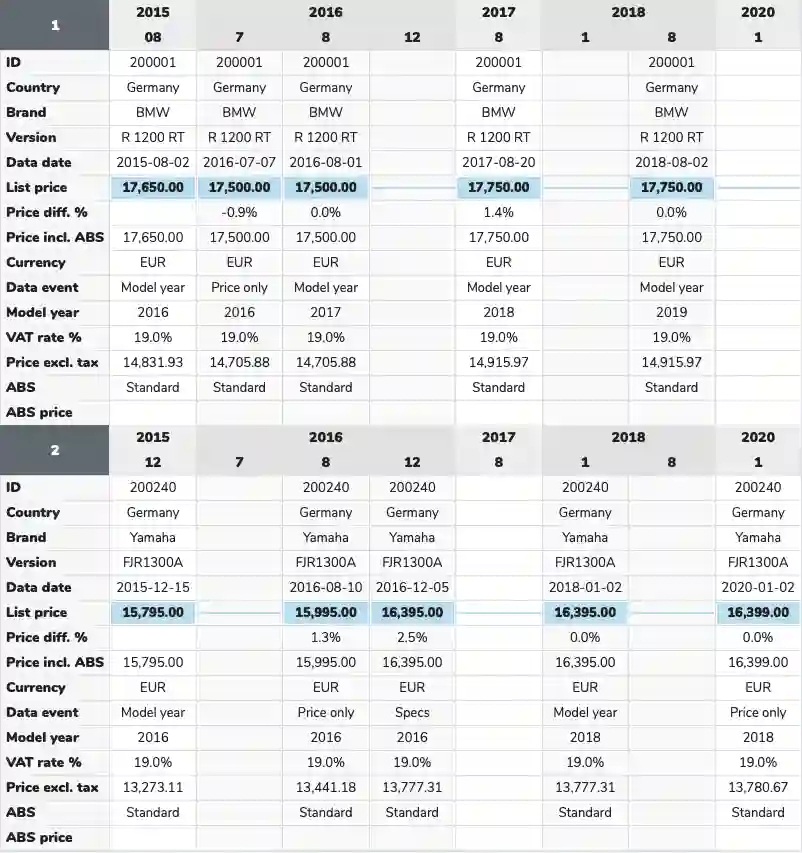 Image: MOTOPRIX Price History Timeline showing price changes over the years
Even better, when running a side-by-side report, 50 motorcycles will take 3 seconds.
Downloading 2500 records of pricing data for analysis in Excel? All done in 12 seconds.
Indeed, running these queries is fast, but what about building these queries? Again, we got you covered there as well; years of feedback from our customers allowed us to design an intuitive query builder, which queries you can save for later reuse.
Automation and integration
Reporting is one thing, but saving time through integration into your bespoke systems is another matter. So, for example, when you have tailored reporting tools or need to feed data into bespoke systems, waiting for someone to download our pricing data manually would be counter-productive.
That's why we added a REST API service to our offering. To integrate our data into your enterprise software, ask Chris for more details ! For more insight into its capabilities, request our API Reference...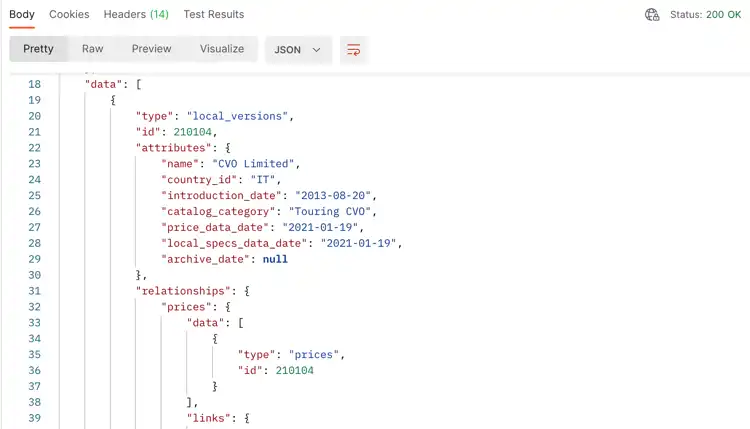 Image: JSON data output from the MOTOPRIX API interface
If your project requires output in a bespoke format, then let's discuss.
Average query speed
| Query type | Query size | Current data | Historical data |
| --- | --- | --- | --- |
| Side-by-side report | 50 vehicles | 3 sec | n/a |
| Listing report | 400 vehicles | 7 sec | 34 sec |
| Price history timeline | 50 vehicles | n/a | 5 sec |
| Price Ladder report | 50 vehicles | 3 sec | n/a |
| Spreadsheet export | 2500 records | 8 sec | 18 sec |
| CSV export | 2500 records | 7 sec | 16 sec |
Read up also on related topics